(Topic: Crochet, sewing, cooking)
Hi Friends!
Recently we noticed that our cast iron pans with bare handles (as opposed to wooden handles) are easier to pick up when we have a dedicated potholder shaped like the handle rather than just wrapping one around it.
I figured, that would be something easy to make! So I crocheted one, using cotton yarn: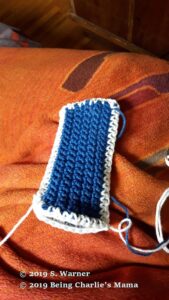 Crocheted exactly to the specs of our pan handles!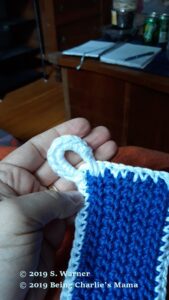 Added a loop so I can hang it up with our other potholders on the kitchen wall!
I also lined it with a double layer of cotton flannel for extra heat protection, stitched along the bottom edge to prevent slippage. It works really well!!
Yours,
Sarah

To subscribe, find the "subscribe by email" note in the left column and enter your email there. Links to posts will be emailed directly to you whenever I post them! Nothing else gets emailed.
Resource list: Visit my spreadsheet at www.tinyurl.com/infantloss