(Topic: knitting, Christmas gifts)
Hi Friends!
For Christmas this year, I decided to knit one present – a daring act, since I often procrastinate or take on too much, and end up with nothing done! But I picked a smallish project that ended up going faster than anticipated, so my Dad got a finished gift for Christmas!
One of his jobs is being a translator from home, which involves a lot of typing. His office is on the second floor of the house and is often slightly cool, so add having your arms extended for mousing and typing, and your hands end up cold! This was a great project to combat that without compromising his ability to type.
The project is a basic fingerless mitt, without a special thumb warmer section. It's really straightforward if you're comfortable doing ribbing, and the thumb hole is basically a horizontal buttonhole.
I used 100% wool Lion Brand yarn from my stash, in a cheery Christmas red! I warned Dad not to throw them in the dryer, but beyond that they should be pretty durable.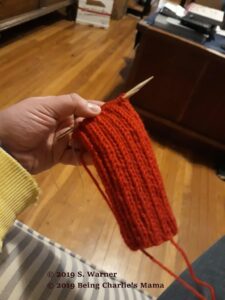 The body of the mitt didn't take too long to knit – just a few pleasant hours with friends or with a movie!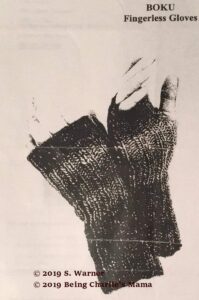 The original pattern picture.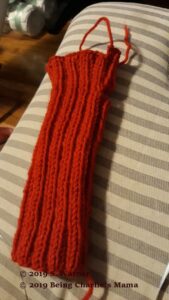 One done! Just need to tuck in those ends.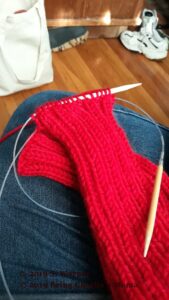 The second one approaching final length.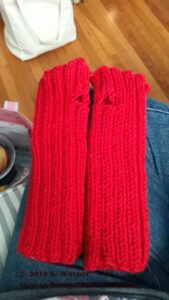 And, done! Unfortunately I didn't get a pic of them on the recipient, but they fit him great!
Yours,
Sarah

To subscribe, find the "subscribe by email" note in the left column and enter your email there. Links to posts will be emailed directly to you whenever I post them! Nothing else gets emailed.
Resource list: Visit my spreadsheet at www.tinyurl.com/infantloss